Smart home security systems are becoming increasingly popular as homeowners seek to protect their property and family members from potential intruders. These systems utilize advanced technology to monitor activity both inside and outside the home, providing real-time alerts and video footage to homeowners and law enforcement if necessary.
Many smart home security systems also come equipped with features such as smart locks, motion sensors, and alarms that can be controlled remotely via smartphone or voice command. As technology continues to evolve, we aim to remain on the cutting edge, providing even more advanced and customizable options for homeowners looking to secure their homes.

Smart wireless security unified with advanced smart home control
One exceptional smart security and smart home experience.
One Panel.
ClareOne is the professionally installed touchscreen controller that combines robust, full-featured and do-it-yourself-friendly home automation with professionally monitored security for exceptional convenience and peace-of-mind.
One Platform
ClareOne pairs with the FusionPro management platform to revolutionize the way security and home technology integrators delight their clients, managing installations from account setup through remote diagnostics and troubleshooting.
Smart. Powerful. Integrated.
The ClareOne smart security and smart home control panel.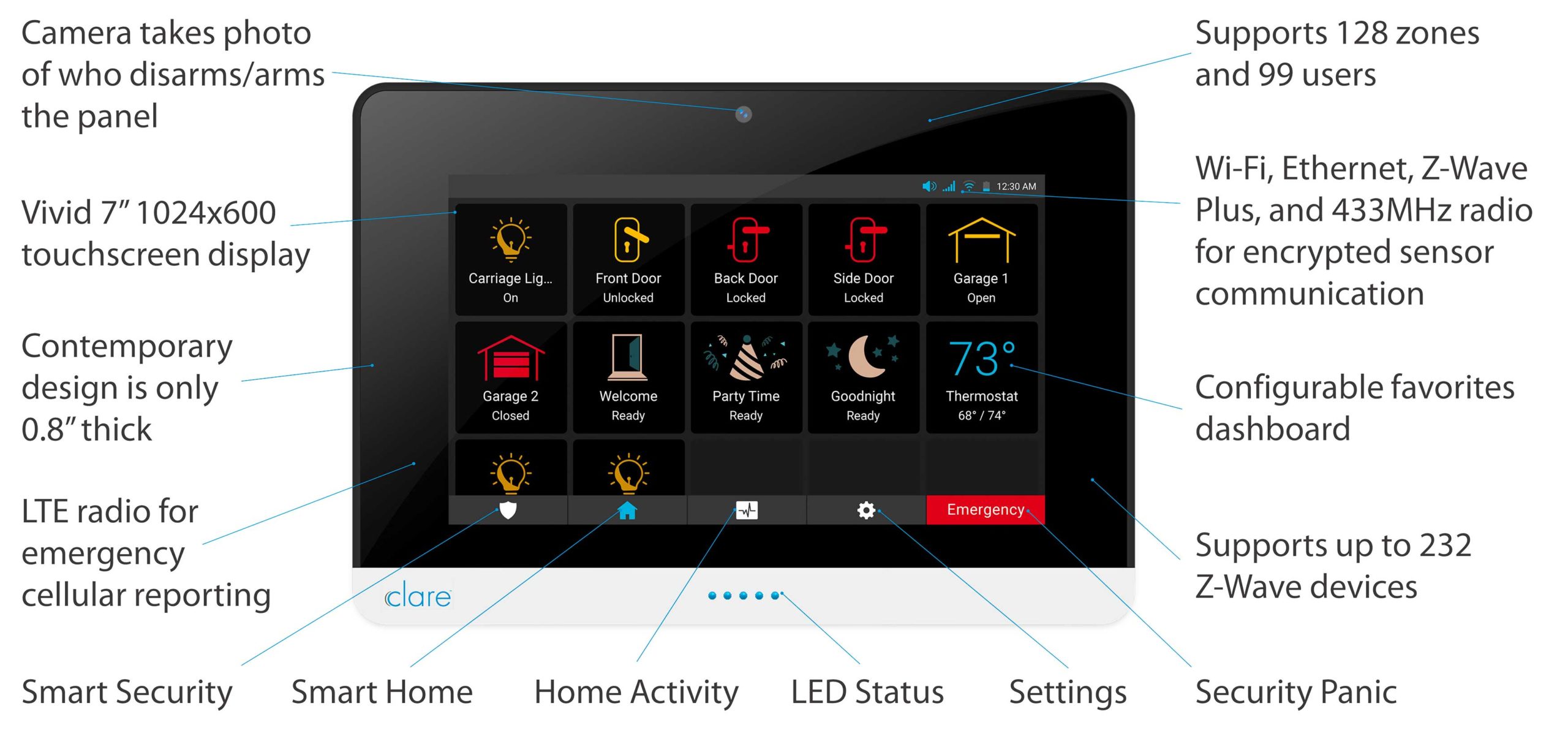 DIY-friendly smart control.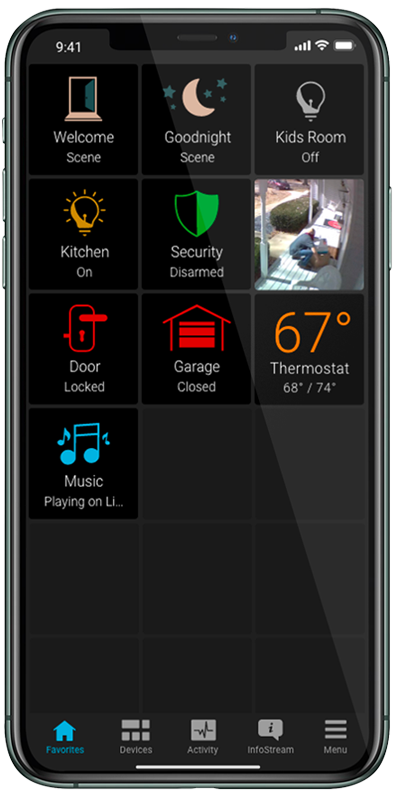 DIY-friendly smart control
ClareOne controls all the home's smart devices, working with hundreds of products that self-discover and auto-install as soon as they are connected to the network.
Enhanced Organization
Hand-in-hand with the new look is new streamlined organization, simplifying control of your system. The pull-down menu on the upper left is now replaced by persistent menu selections at the bottom of each ClareHome screen. All interaction is now grouped under one of five menu icons: Favourites, Devices, Activity, Actions, and More
Elevated Security
Selecting "More" enables control of user access to your Clare system(s). ClareHome puts the primary user of each system in full control of assigning who gets access as a user. Unlike some other security systems, your dealer cannot add other users to your system. Only you can do this, safely and securely.

Monitor Everywhere...
From Anywhere.
Take control of your security system with the push of a button. Remote access allows you to view live camera feeds from virtually anywhere.
View live security camera footage on your television, Control4 touchscreens, and mobile devices.
Remotely connect and command your home, from virtually anywhere.
Control4 supports the same streaming capabilities that are utilized by the best surveillance cameras to deliver superior video quality at 80% or more bandwidth savings, increasing efficiency and reliability.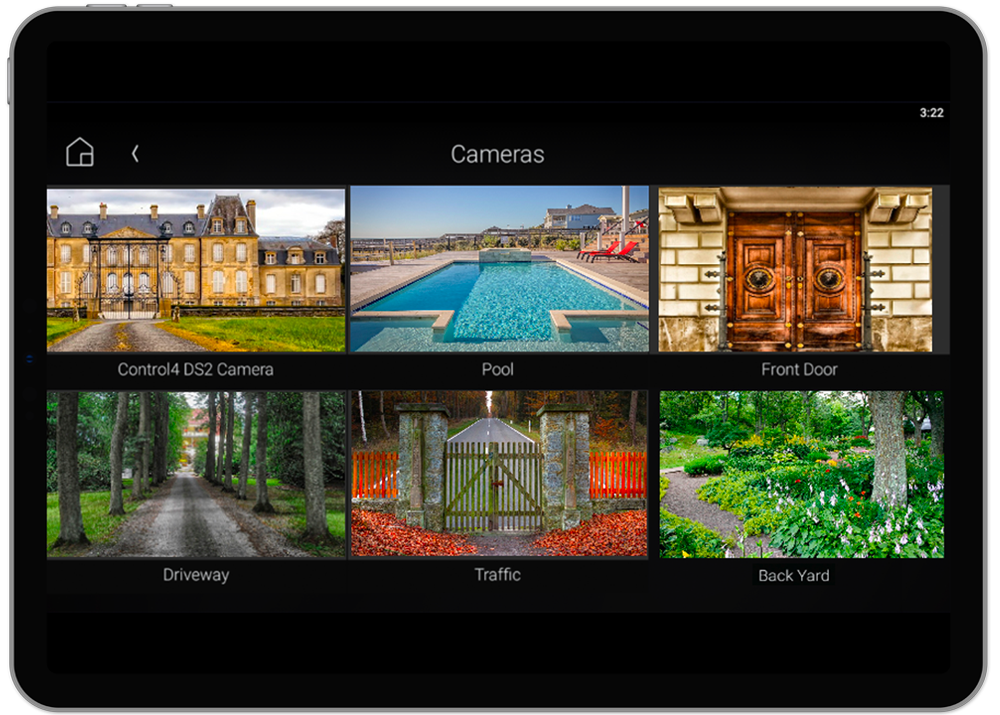 The Supported Home
Make your home or business security smarter with Honeywell Home security systems. With connected options to automate system control, easy-to-use keypads and key fobs, wireless sensors and more, our security systems provide you with sophisticated solutions designed to work together seamlessly.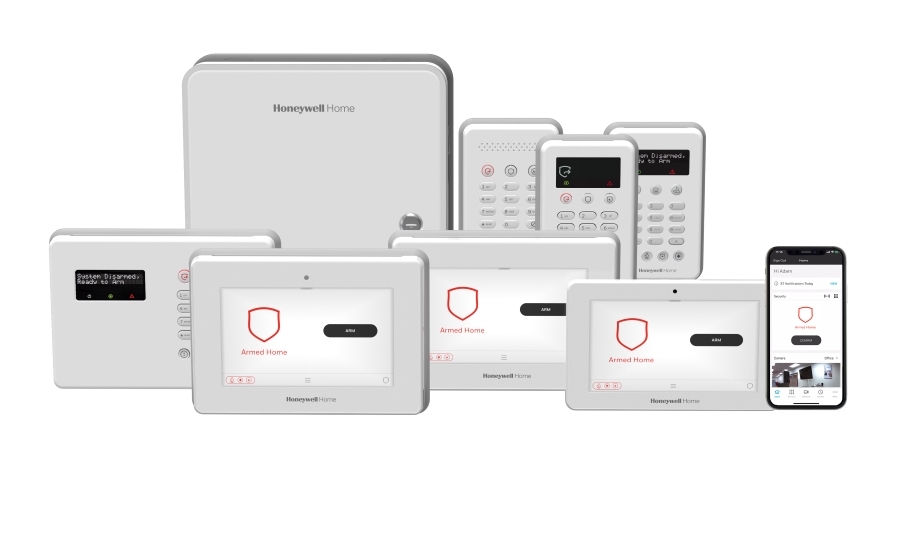 Chime. The first video doorbell built for the truly intelligent home.


180° Wide Angle Duel Lens Camera
Introducing our latest addition to our security camera lineup, the 180-degree wide-angle splicing camera! With its impressive output of max 8MP (4096 x 1800) @25 fps, you can rest assured that your property is being monitored with the highest quality images.
We understand the importance of compression rates and bit rates, which is why we've equipped this camera with an H.265 codec, ensuring ultra-low bit rates and high compression rates. With its built-in warm light and a maximum illumination distance of 40m, this camera is perfect for monitoring any environment.
Our camera is also flexible when it comes to coding, with its ROI, SMART H.264 +/H.265+, and AI H.264/H.265 features, it's adaptable to various bandwidth and storage environments. We've also added WDR, 3D NR, HLC, BLC, and digital watermarking, making it perfect for various monitoring scenes.
This camera has a variety of features that make it perfect for a security system. With one alarm input and output, audio input and output, and support for a max of 512 G Micro SD card, built-in Mic and speaker, and two-way talk capabilities, this camera is perfect for monitoring any property.
Installation is a breeze with its 12 VDC/PoE power supply, and its IP67 protection ensures that it's durable and long-lasting.
Our camera is also equipped with intelligent monitoring features such as intrusion detection, tripwire, heat map, and people counting. Its EPTZ feature allows you to track targets of intelligent alarms with ease.
We've also added SMD, making it perfect for detecting motion and reducing false alarms. Overall, our 180-degree wide-angle splicing network camera is a must-have for any security system.
AI Active Deterrence
With starlight solution and deep learning algorithm, the AI 5 Series network camera has various intelligent functions, including face capture, perimeter protection and people counting, which greatly improve the accuracy of video analysis
AI Face Detection technology can detect the face in the image. With deep learning algorithm, the technology supports detecting, tracking, capturing and selecting the best face image, and then outputs face snapshot.
With deep learning algorithm, AI Perimeter Protection technology can recognize human and vehicle accurately. In restricted area (such as pedestrian area and vehicle area), the false alarms of intelligent detection based on target type (such as tripwire, intrusion, fast moving, park-ing detection, loitering detection and gathering detection) are largely reduced.
 Siren and Light Active Deterrence
The siren and light active deterrence network camera supports the light alarm and voice alarm when perimeter event occurs, to realize the deterrence and effective intervention. The camera is built in multiple voices for selection, and supports customized voice importing.
With deep learning algorithm, AI People Counting technology can track and process moving human body targets to realize the accurate statistics of enter No., leave No., and In Area No. Working with management platform, it outputs yearly/monthly/daily reports to meet your requirements.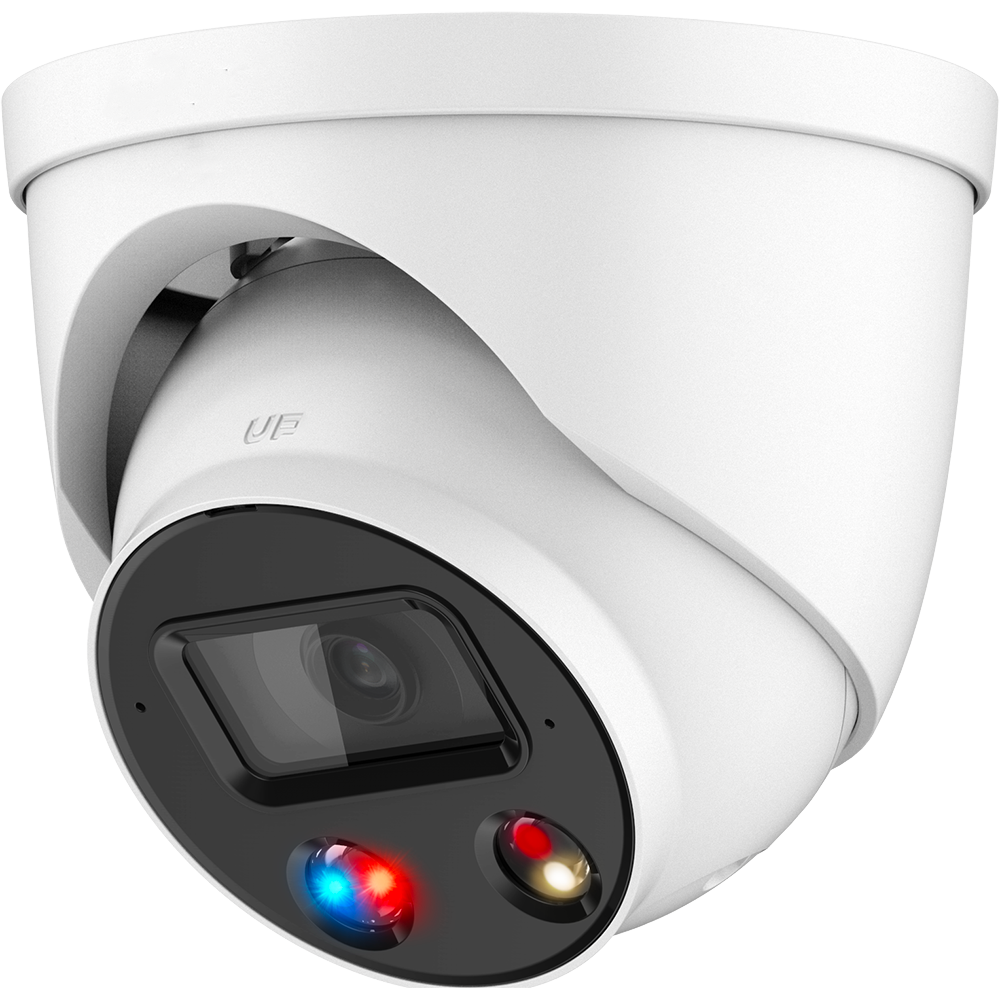 4MP, 5MP, or 8MP 1/2.7″ CMOS image sensor, low illuminance, HD
Built-in efficient warm light and IR LED
Active Deterrence provides a system that links video and audio, with information and alarms to verify potential risks. Active deterrence cameras can actively warn off intruders with lights and sirens, and alert users in real-time.
Please fill out the form below to schedule a Free Consultation with one of our Industry leaders. You can choose to visit us in our Certified showroom, or schedule a virtual consultation for your convenience.

"K&S has been amazing to work with! They have outfitted our whole house. Can't say enough good things. Highly recommend!"

Kristen Martin

K&S Customer
"K&S has been amazing to work with! They have outfitted our whole house. Can't say enough good things. Highly recommend!"

Elena Bykova
"We used K&S Electronics for our home automation and security system on our new build five years ago. The experience was so great we have decided to use them again as we complete our basement and put in a home theater. They listen to the clients needs and always have great recommendations for equipment. We've also had a great experience with their alarm monitoring service. I like how the call center is located in Winnipeg. Any time the alarm has gone off, we have been contacted immediately, which was not the case with our previous service providers."

Sarah Wallace

K&S Customer
"We are extremely satisfied with our experience with K&S. Sean was very knowledgeable about the products & explained very well which made the ordering process quick and efficient. With fast response times, we found them to be very accommodating to our schedule for installation with no long wait for an appointment. The installation tech did a great job and we are very happy with their work."

Melanie Kosa

K&S Customer