Why choose Home Automation?
Control4 is a leading provider of smart home automation solutions that enable homeowners to enjoy an unparalleled level of comfort, convenience, and security. With a Control4-enabled smart home, you can wake up to your favourite playlist, adjust the temperature and lighting to your liking, and seamlessly control all your home's devices from your smartphone or tablet.
With a simple voice command, you can dim the lights, queue a movie, and relax with your family after dinner. Once it's time for bed, you can tuck your kids in and tap a button to lock the doors, turn off the lights, and set the alarm, all from the comfort of your bed.
Smart home automation solutions offer countless benefits that can transform the way you live and interact with your home. A smart home is the ultimate in comfort, convenience, and security.
Monitor Everywhere...
From Anywhere.
Take control of your security system with the push of a button. Remote access allows you to view live camera feeds from virtually anywhere.
View live security camera footage on your television, Control4 touchscreens, and mobile devices.
Remotely connect and command your home, from virtually anywhere.
Control4 supports the same streaming capabilities that are utilized by the best surveillance cameras to deliver superior video quality at 80% or more bandwidth savings, increasing efficiency and reliability.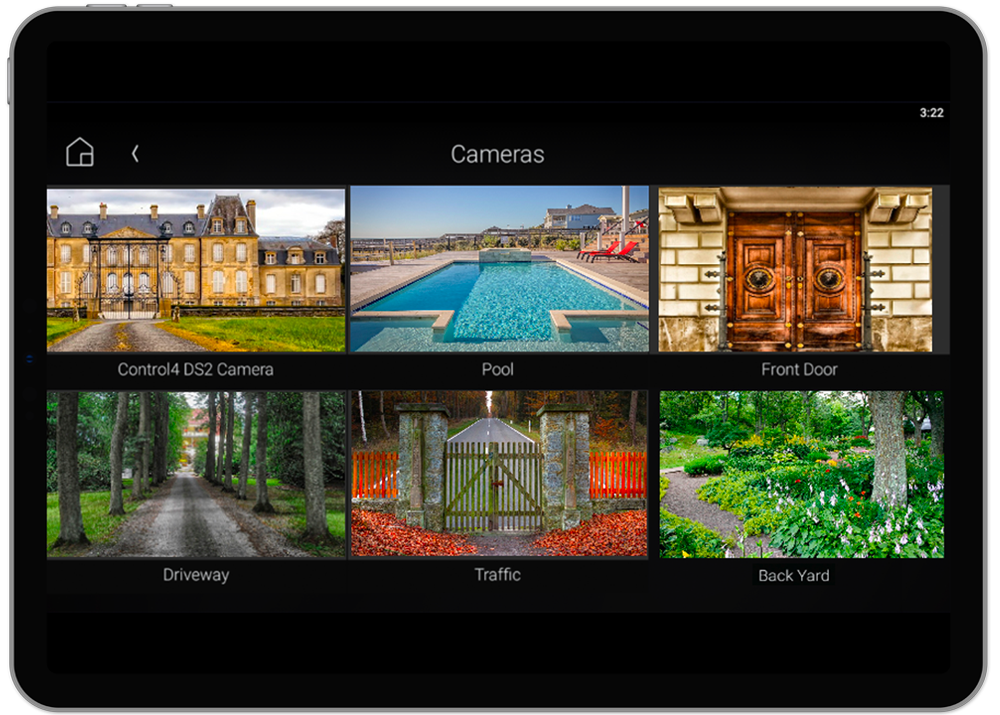 TOTAL CONTROL OF YOUR HOME.
Integrates with your favourite devices
Control Lighting, Shades, Home Theatre & Security all with one touch of a button
Create the perfect moods for all of your daily lifestyles and activities.
Control everything remotely from anywhere in the world
Choose one room, or your whole house.
Managed components in a clean contained environment.
Stream anywhere with the push of a button.
One tap and shades close, lights down, audio and video start, all from a single remote.
Automatically adjusts to your perfect temperature
Control and adjust from anywhere
Sync with window shades and fireplaces to maximize comfort
Intelligent temperature control, saving you money
Enjoy anywhere at the touch of a button
Decor matching in ceiling speakers and 5K screens
Enjoy indoors and outdoors
One touch scene applications
Customized engraved keypads
Programmable settings for game night, dinners, and beyond
Automatic timer control for both decor and security
Control from anywhere
BETTER CONNECTION & RELIABILITY.
Faster more reliable signals
Managed access points both indoors and outside
Increased bandwidth for all of your devices
Dedicated service where you need it most
Meet Halo.
Control at your fingertips.
The Halo Family of Remotes were engineered for next-gen interaction and functionality like dynamic access to dual voice assistants from a single button.
A beautiful, new user-interface was designed for intuitive use, with incomparable media browsing and control, and new customization options.
Wherever you feel like Dancing
Effortlessly play high-fidelity music through the entire house or enjoy it in select rooms. Whether from a popular on-demand streaming service or your private media collection, Control4 makes it easy to command your music your way.
Custom engraved audio switches that not only match your home decor, but allow you to access the perfect music selection for any occasion in an instant.
Please fill out the form below to schedule a Free Consultation with one of our Industry leaders. You can choose to visit us in our Certified showroom, or schedule a virtual consultation for your convenience.

"K&S has been amazing to work with! They have outfitted our whole house. Can't say enough good things. Highly recommend!"

Kristen Martin

K&S Customer
"K&S has been amazing to work with! They have outfitted our whole house. Can't say enough good things. Highly recommend!"

Elena Bykova
"We used K&S Electronics for our home automation and security system on our new build five years ago. The experience was so great we have decided to use them again as we complete our basement and put in a home theater. They listen to the clients needs and always have great recommendations for equipment. We've also had a great experience with their alarm monitoring service. I like how the call center is located in Winnipeg. Any time the alarm has gone off, we have been contacted immediately, which was not the case with our previous service providers."

Sarah Wallace

K&S Customer
"We are extremely satisfied with our experience with K&S. Sean was very knowledgeable about the products & explained very well which made the ordering process quick and efficient. With fast response times, we found them to be very accommodating to our schedule for installation with no long wait for an appointment. The installation tech did a great job and we are very happy with their work."

Melanie Kosa

K&S Customer